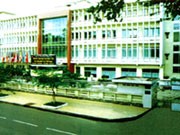 SEAMEO building
An international training course on educational management was held by the Vietnam-based SEAMEO Regional Training Centre with the participation of more than thirty university leaders and administrators from Cambodia, Indonesia, Laos and Vietnam.

The course aims at improving management and leadership capability of administrators, developing and applying managerial knowledge and skills and approaching experiences in the field of educational management of the region and the world.

The lecturers of this course are the prestigious and experienced professors from American universities.