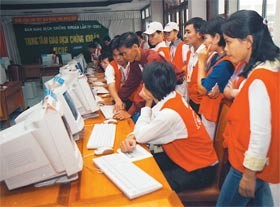 (Photo: Mai Hai)
Many scientists from famous universities such as Harvard, Duke, and Rice pledged that they are willing to help Vietnamese government to build its internationally-standardized universities.
However, educational administrators and scientists have not yet reached a unanimous description or the operation system of an internationally-standardized university, said Deputy Minister of Education and Training Banh Tien Long.
In the NCE meeting, the project was the most controversial issue, receiving a lot of comments from delegates.
Mr. Nguyen Huu Tang, Vice Chairman of the Central Commission of Science and Education said that non state-owned universities should be encouraged immediately. But, a completely new university is not necessary at this time.
Professor Hoang Tuy affirmed that great support from leading international universities and overseas Vietnamese are assets to an internationally-standardized university project in five to seven years. International standards should be gradually established in each department and each faculty.

At the first step, internationally-standardized university should enroll both high school graduates and undergraduates. By means of this, excellent students could be selected and experienced scientists could have a chance to lecture in good teaching environment.
Professor Dao Trong Thi, Vice President of Vietnam National University-Hanoi, added that a university cannot reach international standards in a few years because it will need not only educational quality but also a long tradition.

Internationally-standardized university must have a new administration system which will ensure the effectiveness in training.
He also suggested two solutions to this problem. The first one is that if a new administration is applied in existing universities, the policy must be coherent enough to change the outdated system.
The second solution is to build a completely new university with a brand-new board of administrators. Though it will cost a lot to build such a new university, its operation will be more advantageous and effective.
All delegates agreed that both of the solutions must be under careful consideration.