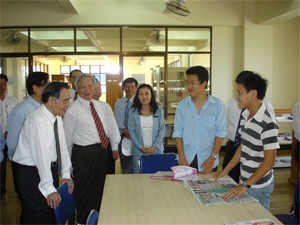 Prime Minister Phan Van Khai (2nd, L) talks with students of the Viet Nam National University-Ho Chi Minh City (Photo:UPhuong)
The internationally standardized university is built in an area of 600 hectare on the boundary between Ho Chi Minh City and Binh Duong Province.
After 5-year of construction, the university has become a key center for training, scientific-research and technology transfer among the education and training sector in the country.
The university's staff of nearly 2000 people, including 190 professors and associate professors, 470 Ph.D. lecturers, 795 M.A. teachers can provide a comprehensive education for all learners with value-centered curriculum.
The university campus contains various facilities, such as a library, software park, to service an estimated number of 15,000 students and researchers. In addition, one 5-storey dormitory has just been opened for over 6000 students.
The institution hopes to succeed in new training scheme that will strengthen the links between academia and technology.
It hopes to provide region and world-class training programs by 2010, said Mr. Nguyen Tan Phat, Deputy Minister of Education and Training.

He also asked permission from the Prime Minister to shorten the duration of building works of the campus from 2020 to 2013, to establish a University of Information Technology and an Informatics-Telecommunication network to meet the surging demand of learners in Southern schools.
The Prime Minister highlighted that human is the most precious and renewable resource. High-level human resource development is a strategic solution, he added.
As many as 83 million Vietnamese people could earn only US$5 to US$7 billion per year.That is not good enough. Only the effective education system that will produce qualified human resource to build a prosperous country. The Viet Nam National University – Ho Chi Minh City must work hard to become an internationally-standardized institution, said the Prime Minister.
Education on morals, thoughts and etiquette is another concern of the PM. Morals includes patriotism, personality, those will lead to a healthy life and a stable society, he said.
The high-ranking delegation of the Government led by Prime Minister Phan Van Khai paid a working visit to Viet Nam National University – Ho Chi Minh City on May 9, 2006.