The International Education and Career Expo 2006 (IECE 2006) will take place in Ho Chi Minh City on April 7-9, 2006 with the participation of more than 150 colleges, universities and institutions from 15 countries including Viet Nam, according to the organizers.
Vietnam National Trade Fair & Advertising Co (Vinexad) and Singapore's Binet Exhibitions Pte Ltd organize the event at Military Zone 7 Indoor Stadium, 202 Hoang Van Thu Street, Phu Nhuan District.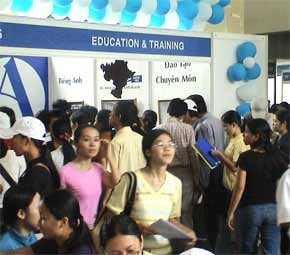 IECE 2005 in Ho Chi Minh City magnetizes many students (Photo: Tuong Thuy)
The organizers say IECE 2006 will provide higher education information in Viet Nam and foreign countries like Australia, Britain, Canada, China, Germany, Malaysia, Singapore, Switzerland, Thailand and the US, together with available scholarships and job opportunities.
More than 700 job vacancies are waiting for applicants at the exhibition, according to the organizers.
During the expo, 30 educational and vocational workshops will be held. Notably, some seminars will be on franchising and business opportunities in Viet Nam. Guest speakers from Canada, Singapore and the US will share their franchising experience.
In this fourth annual expo, China, Malaysia, Singapore and Thailand will have a common booth each besides pavilions of single exhibitors for the first time. So, visitors will be able to get further higher education information in the four Asian countries. 
The fair is organized with support from Viet Nam's Ministry of Education and Training, Ministry of Trade, Ministry of Labor, Invalids and Social Affairs. 

Link
IECE 2006