At the Ba Dinh Meeting Hall in Ha Noi, a ceremony was held in the July 12 evening to honor 188 students who won international prizes during the 'doi moi' ( Renovation) period (1986 - 2006).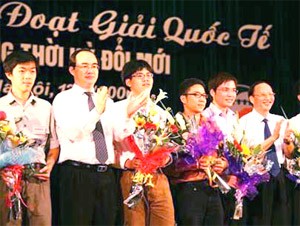 Education and Training Minister Nguyen Thien Nhan(2nd,L) at the ceremony
During the past 20 years, out of 848 students who took part in international contests, 415 have won prizes ranging from gold medals to encouraging prizes.
Their achievements have contributed to reaffirming Vietnamese people's intellectual and bringing fame to the country in the international arena.
Therefore, the program to honor students winning international prizes and excellent individuals will also encourage pupils and students to continue striving for  their study and tasks in order to make great achievements, contributing to building the country.
Secretary of the Party Central Committee and Head of the Party Central Committee's Commission for Culture and Ideology To Huy Rua, Education and Training Minister Nguyen Thien Nhan and Culture and Information Minister Le Doan Hop attended the ceremony and gave memorial medals to excellent students and alumni.

Link:
Vietnamese Students Attend International Academic Olympiads