The Embassy of Japan in Vietnam has provided nearly US$200,000 for renovating a school, as part of a Grass root and Human Security Project, in the northern province of Thanh Hoa and the central province of Nghe An.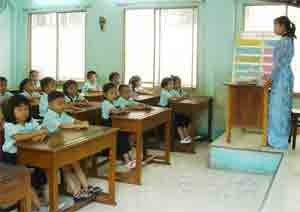 Illustrated photo (Photo: Khanh Thy)
Mr. Yasuaki Tanizaki, Japanese Ambassador to Vietnam handed over the amount to Le Van Tien, Chairman of the People's Committee of Cac Son Commune in Thanh Hoa Province and Luu Duc Hanh, Chairman of the People's Committee of Dien Tan Commune in Nghe An Province at a ceremony in the Japanese Embassy in Hanoi on June 14.
US$99,172 of the amount will be used to construct a new building (2 floors, 8 classrooms) for the Dien Tan Commune Primary School for children to learn in a vibrant and safe environment.
Dien Tan Primary School has two separate buildings, with one building having 10 classrooms where pupils study in two shifts, which was built 50 years ago. This is now in a dilapidated condition and it is for this building that the Government of Japan has decided to grant aid to renovate and buy the necessary materials. The 2nd building of the school was renovated in 2006.