SGGP March 01 organized a jobs fair for students about to sit university entrance exams at Ly Tu Trong High School in Can Tho City. The event gave students advice in choosing careers and universities.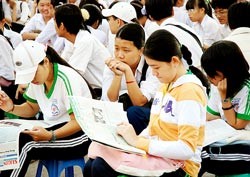 Students at the jobs fair held by SGGP at Ly Tu Trong High School, Can Tho City March 01 (Photo: SGGP)
Thousands of 12 -grade students from 20 schools in the city and districts of Hau Giang and Vinh Long Provinces came to the school to participate in the program. They rushed to take notes and write questions for lecturers from universities.
The school yard seemed to be smaller than usual, with noisy and excited sounds even though the fair had not started.
Copies of SGGP were passed from hand to hand, which offered information about hot careers and Holland's theory, a theory about career choices.
At the start of the fair, the organizing committee had said the focus of the program, as well as the interest of most students, was 'How to harmonize between personal interests and society's demand.'
The atmosphere became eventful when many students raised their arms. Questions about careers and conditions for enrolling students in universities were continually asked.
Students did not only ask about branches of learning in universities but also society's demand for each career in the economic recession.
Some students asked many questions as they were not satisfied by the answers.
By 10 am, it became very hot with an intense sun over head. Many students hid in the corridors to hide from the sun but still followed the program.
Outside the school gates, some students from remote districts had just arrived.
Teacher Tran Dinh Ly from HCM City University of Agriculture and Forestry (Nong Lam University) came to the school yard to guide students on completing a Holland's theory test to aid career choices and explain the test results.
Choosing career first, then university
The program focused on guiding careers, as 70 percent of fourth year students discovered that they had made the wrong choices for future careers.
Ly Tu Trong is one of the limited number of schools that has career guidance. Everyday, counselors takes three hours to answer students' emails.
A senior teacher from a High School in Can Tho said, "Many schools just consider the ratio of students passing the university entrance exams rather than the number of students choosing careers that are suitable for their abilities and social demand."
Career guidance should be conducted from 10-grade, so that students have time to research future careers. It will help pick wrong careers in order not to waste their money, time and effort, he said.