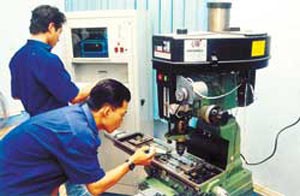 Many students decide to study at vocational centers for their future career.
In order to continue providing training to the public that is relevant to the current demands of the labor market, the Ministry of Education and Training said that it will request the Government's approval for the establishment of a labor market forecast center at the national level with offices based in Ha Noi, Da Nang and Can Tho.
The main task of the centers would be to analyze and forecast the needs of employers in different regions of the country.
At present, the Ministry of Education and Training has asked vocational high schools to review the areas they offer training in and their corresponding curriculums, in order to adjust them to suit the current requirements of the labor market.
The schools were also requested to predict future trends in human resource requirements in order to provide employees of local enterprises with relevant training or refresher courses.