In a continuing series on the status of education in the Mekong Delta, SGGP looks at the lack of investment in the sector.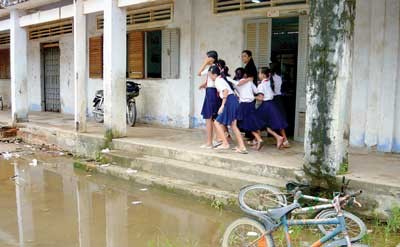 Long Duc Primary school in the southern province of Tra Vinh is in a terrible state but at least has a concrete building. Many schools in the Mekong Delta are built of thatch and bamboo. (Photo; SGGP)
In 1999 the then Standing Deputy Prime Minister Nguyen Tan Dung instructed the Ministries of Planning and Investment and Finance that investment in education and training in the delta region should be 22 percent of the national figure.
But five years later, the figure only averaged 17.17 percent. However, after 5 years of practice, the figure only stopped at 17.17 percent, which forces the Ministry of Planning and Investment and the Ministry of Finance to correct the situation as soon as possible.
At a meeting held in 2005 in the Mekong delta city of Can Tho, he blamed the poor state of education on the failure to implement plans.
In 2006 he called for upgrading the educational infrastructure in the region.
Thanks to this, there are now 6537 schools in the area, 10.5 percent more than three years ago. The number of schools meeting national standards has also increased – by 83 percent to 561.
But many classrooms here are still built of thatch and bamboo.
In Kien Giang Province 386 out of 8939 classrooms are thatched. Many places also lack functional rooms, laboratories, libraries, and playgrounds.
Although Hau Giang Province has no thatched classrooms, its educational infrastructure is in a bad state.
Phan Van Hai of its Department of Education and Training said 27 communes do not have a kindergarten.
Students of Long Duc primary school in Tra Vinh town have to travel to other places to study because they have no school facilities of their own.
In Tra Cu District, home to a large Khmer community, there are no kindergartens and many classrooms are thatched.
Local administrations would do well to throw open education and training to private investment and use the funds from lottery schemes and ODA effectively.
But it also requires the Government to allocate for the region 22 percent of its national spending on education as Mr.Dung, now Prime Minister, ordered and for educational and other local officials to use the funds efficiently.
Related articles;
Policymakers should prioritize teachers in Mekong Delta
Poor schooling in Mekong Delta worries Government