The Colette French School (Ecole Francaise Colette) in Ho Chi Minh City will start the construction of its new campus soon as it signed an agreement with HCM City People's Committee on July 19 to lease a plot of land for the campus over 50 years.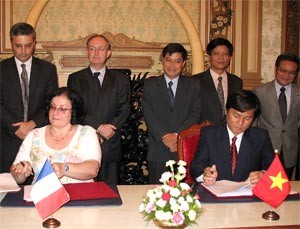 Ms. Villate and Mr. Kiet sign the contract. (Photo: Tuong Thuy)
The signatories were Colette principal Michelle Villate, who represents the agency for French education abroad (AEFE), and Mr. Dao Anh Kiet, deputy director of the Department of Natural Resources and Environment, who represents the People's Committee.
The signing ceremony was witnessed by city Vice Chairman Nguyen Van Dua, French Ambassador to Viet Nam Jean-Francois Blarel, French Consul General in HCM City Nicolas Warnery and Philippe Serene, president of the Chamber of Commerce and Industry of France in Viet Nam.
This plot of land, about 2.5 hectares, is located in Long Binh Ward, District 9. Once in place, the new campus will be able to take in 800 pupils and students from the kindergarten to the 12th grade, instead of just 480 pupils and students at the operational campus in District 3.
AEFE will engage a project manager this summer for this project, and then a contest for design and architecture for the school will be launched in September, said French Consul General Warnery. The construction will start right after that and the new school is due to open in late 2008.
"The project contributes to making Ho Chi Minh City more attractive to French investors and nationals, as well as nationals from French-speaking countries because they can bring their families with them when they come here to work," he said at a reception held on 14 July to celebrate France's National Day.
At the Wednesday signing ceremony, city Vice Chairman Dua told French Ambassador Blarel that he has instructed the departments of Construction and Architecture to be ready to support AEFE in doing homework for the project.
Mr. Dua added, "While the school is under construction, we will always follow up work to immediately solve problems when they arise."
Link
Agency for French education abroad (AEFE)

Related article
Reception in HCM City Marks France's National Day