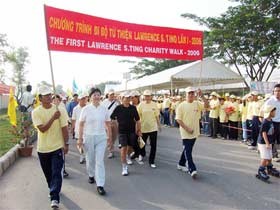 First Lawrence S. Ting charity walk in Ho Chi Minh City, 2006.
With the approval of Ho Chi Minh City People's Committee, the charity fund in commemoration of Lawrence S. Ting, the late Chairman of Phu My Hung Joint Venture Company, is jointly established by the company and the Taiwan's Central Trading and Development (CT&D) Corporation, the Tan Thuan Joint Venture Company and some other companies.
140 underprivileged and hard working students from six schools in Ho Chi Minh City will be granted with scholarships from the support fund on March 15.
With the donation from various sources, the fund will be used to support charity programs in the fields of health, education, and infrastructural constructions in underprivileged areas of Ho Chi Minh City.