In mid-March, 2006, during Prime Minister Phan Van Khai's working visit to Cambodia, he met and talked with Tan Tien Primary School's teachers and pupils - this is only school in Cambodia to teach in Vietnamese Ministry of Education's program. PM gave US$300,000 to Vietnamese Association in Cambodia (VNAC) to encourage them to develop Vietnamese teaching to overseas Vietnamese community in Phnom Penh.
We love to learn Vietnamese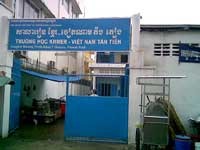 Tan Tien primary school in Phnom Penh
"The Khmer-Vietnamese Tan Tien Primary School" located at No 18, 105 Street-Phnom Penh with the slogan "Study manners first and then learn to read and write". This is 100% Vietnamese school in Phnom Penh. Pupils wear Vietnamese uniform with white T- shirt and blue trouser.
Bui Thi Hong is Tan Tien primary school's third grader. Hong said "I love to learn Vietnamese because if I know Vietnamese language I will know many things. I am going to return to Viet Nam to study higher level". Other pupils are also very keen to learn Vietnamese poems, songs.
Tan Tien Managing Board gets US$10 tuition per pupil per month. But tuition is waived for pupils with financial difficulties. Besides, Vietnamese Association in Cambodia also organized compassionate classes from first to third grader. 70 pupils in Ta Ngau, Ne Rot Commune –Mean Chey District (Phnom Penh) are studying free of charge.
People who sows handwritings
Mr. Chau Van Chi, Chairman of the Vietnamese Association in Cambodia remembered: In 1993, due to Vietnamese who were living in Phnom Penh desired to learn Vietnamese language, we found Tan Tien Primary School. At that time, there were only 3 classes with 3 teachers and Association's head Office became a school.
"Nearly 15 years later, the same address we have developed from 3 classes to 18 classes with 600 pupils. School's material facilities are getting better and the number of rooms has increased to 11. Most teachers passed official training courses in Viet Nam. Syllabus, textbook and teaching methods also follow the current educational program in Viet Nam" Mr. Van Chi, added.
Mr. Pham Van Be, Vice director of Tan Tien, is 70 years old. He contributed very much to the development of Tan Tien to its present status. Mr. Pham Van Be said: "Because we have not updated our teaching methods, we might not be as professional as in Viet Nam, but our staffs in Phnom Penh are fully committed to their teaching jobs. Although their salary only is US$70 per month"
According to a survey of Vietnamese Association in Cambodia, all pupils of Tan Tien have no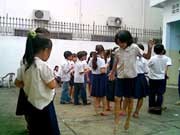 Pupils are in playtime
problem mixing with pupils in Viet Nam when they go there to further their study, some of them are doing exceptionally well.
According to Cambodia's statistic, there are 102,000 overseas Vietnamese in Cambodia, 27,000 of them are in Phnom Penh. About 50% children could not speak Vietnamese language due to their remote locating. The number of students who fail to remember any Vietnamese is even higher, at around 70-80%.
"In recent years, Vietnamese enterprises have set up their businesses in Cambodia, they have contacted VNAC to get the young people who can understand Vietnamese to work for them," Mr. Chau Van Chi, said.
"We want to set up higher classes to teach pupils who finish primary level. At the present, we are applying more Cambodia's educational programs to help our pupils integrate in both Vietnamese and Cambodian schools. We also plan to build more primary schools like Tan Tien in other cities, provinces where overseas Vietnamese are living" Mr. Chi, added.