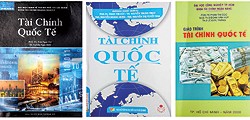 Dr. Tho's textbook (left), and the two books accused of plagiarizing it (right) (Photo: Thanh Nien)
The University of Industry in Ho Chi Minh City is considering stripping a group of lecturers of their titles after it confirmed accusations of plagiarism leveled against them.
The university's discipline council confirmed April 27 that the lecturers had plagiarized and it promised harsh punishment because the fiasco had so badly affected the institution's prestige.
The Ministry of Education and Training has ordered the council to "criticize" the lecturers in question. The chair of the council said he would reconsider whether or not the instructors are worthy of their academic titles, Thanh Nien newspaper reported.
A textbook on international finance co-authored by associate professors Dr. Phan Thi Cuc, Nguyen Trung Truc, Nguyen Hoang Hung and Nguyen Thi Tuyet Nga was found to have plagiarized at least two chapters of a book on international finance by Dr. Tran Ngoc Tho and Dr. Nguyen Ngoc Dinh of the HCMC University of Economics, according to Thanh Nien.
Dr. Tho pointed out a lot of instances of plagiarism in the problematic textbook, and also pointed out several outright mistakes.
"It took me five years to write the International Finance book which was praised by the scientific council. I only wrote three books in my 30 years of research. The group did not cite it as reference but they committed plagiarism, a serious crime in the academic world." Dr. Tho said angrily, adding that dishonesty in the education sector was so prevalent that it was assumed as something natural. He said teachers couldn't tell their students not to cheat when teachers copy others' teaching materials without permission.
Dr. Tho threatened to send a complaint letter to the State Council of Professorship to reconsider some of the plagiarizer's titles.
In an explanatory note recently sent to the State Council for Professorship, Dr. Cuc was quoted by Thanh Nien as saying that chapters 2 and 8 in the textbook were contributed by a postgraduate student instructed by Professor Dr. Tran Ngoc Tho and a postgraduate, Dr. Nguyen Trung Truc, who had worked with Dr. Tho to write the book."
However, both Dr. Tho and Dr. Truc have denied this.
According to an April 11 news report by Thanh Nien, Dr. Cuc and her colleagues had yet to apologize and Dr. Tho had received an email message from an anonymous sender threatening to kill him.