Fewer than expected students have resulted in the closure of departments in some universities, especially private educational facilities.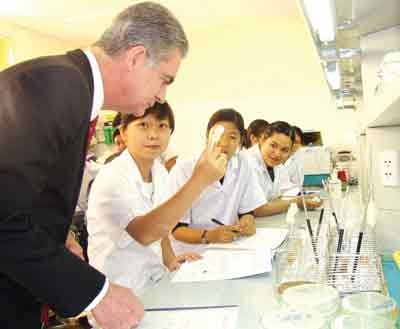 Workers at Nidec Company in Sai Gon Hi-Tech part (Photo: SGGP)
Van Hien private university recently announced the closure of the five departments of sociology, culture, Vietnamese studies, business English and electronics and communications.
Similarly, the Japan Faculty of the Ho Chi Minh University for Foreign Languages and Information Technology received only 12 students, while the Chinese studies and Chinese language department had only two, with Korean studies managing a slightly better four.
Four departments have slowly been dying for the past two to three years, said Dr. Nguyen Manh Cuong, the university's deputy director. The university will ask students to study other subjects in Oriental Studies.
This has also been seen in public universities, such as the Pedagogy School, which has closed modern language courses, such as Russian, English, French or Chinese due to a lack of students.
The problems are also to be found in technological studies.
Private universities, such as Ho Chi Minh University of Technology, Sai Gon Technology and Lac Hong reported the lack of students registering for automation technology, electronics and communications and mechanical automation.
Their State counterparts of Ho Chi Minh University of Sciences and Ho Chi Minh University of Technology also face a lack of students in the two faculties of Material Technology and oceanography – hydrometeorology, despite lowering accepted pass marks.
Private universities have said that the lack of such students may bring more closures in the next five years.
The situation is becoming serious as their public counterparts have also started to worry about the situation.
Education experts said some reasons for the situation was that private universities had mushroomed in recent years, with many departments not setting clear targets. This has been made worse as they have not predicted demand.
Relevant agencies must take responsibility for the numerous private universities being allowed to open without testing real demand.
According to Dr. Pham Phu, an education expert, the closure of some departments is a sign of the market mechanism in the country's education sector.
Learners themselves will choose their studies of choice following their inclination.
This also reflects the sector is moving to popularization rather than quality.