Ho Thi Que Chi, a 10th grader at a High School in the northern province of Bac Ninh, won first prize in a letter-writing competition in Viet Nam sponsored by the Universal Postal Union.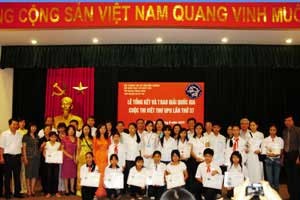 Award presentation of UPU letter-wriiting competition in Viet Nam
The organizing board selected 71 letters from nearly 2 million submissions for the final round.

The theme of this year's contest is, "Write a letter to someone to tell them why the world needs tolerance." Que Chi's entry is a letter to Osama Bin Laden. The letter tells about the necessity of tolerance and encourages people to prevent cruelty. This is not only an attitude of living, but also an act of living, the letter says.

The letter receive the first-prize will represent Viet Nam in the Union's 37th International Letter-Writing Competition.

Related articles:
Viet Nam's 2008 UPU International Letter Writing Contest Launched