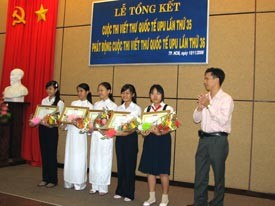 Some of the prize winners at the award ceremony on Friday (Photo: TC)

The winners of the southern Viet Nam heat of an international letter-writing competition received their prizes and a heap of praise from Ho Chi Minh City Post and the HCMC Education Department on Friday, World Post Day.
For the 35th International Letter Writing Competition for Young People to celebrate the 132nd anniversary of the Universal Postal Union, the contestants had to compose a letter beginning with the sentence 'I am writing to tell you how the postal service helps me connect to the world'.
Mr. Nguyen Hoai Chuong, deputy director of the HCMC Education Department, presented the prizes to the winners as well as certificates for all the participating students, teachers and supervisors.
The top-judged entry among the hundreds of letters written by school kids all over Viet Nam was penned by Mai Thi Lan Anh, a ninth grader at Ngo Dong High in Nam Dinh Province, and was read out aloud at the presentation.
Nguyen Viet Dung, deputy director of the Ho Chi Minh City Post Office, had this to say on the occasion:
"World Post Day is a major event on the annual postal calendar. Ever since 22 countries assembled in Berne, Switzerland, to form the Universal Postal Union 132 years ago, it has played a pivotal role in international postal affairs, formulating laws to ensure freedom in postal matters and fostering financial and cultural links between the member countries."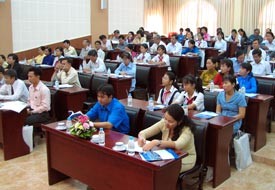 Government officials, school kids, teachers, judges and reporters at Friday's award ceremony (Photo: TC)

Besides the senior city officials, the award ceremony was attended by Ministry of Education staff, the judges for the competition, and many of the students who took part, along with their teachers and supervisors.
The International Letter Writing Competition for Young People is organized at the national level by the Ministry of Telecommunications and Post in association with the Ministry of Education and the Ministry of Natural Resources and Environment.
From here, the best-judged entries from the southern, central and northern regions are entered into the Universal Postal Union International Letter-Writing Competition, whose objective is to promote youngsters' interest in letter writing as a means of sharing their thoughts with others.
The next competition is another letter, needless to say, but this time with an ecological theme: "Imagine you are a wild animal whose habitat is threatened by environmental or climate change. Write a letter to the people of the world, explaining to them what they can do to help you survive".
All school children younger than 15 are encouraged to participate.