The 38th annual UPU (Universal Post Union) International Letter-Writing Competition for Young People 2009 was launched in Ha Noi yesterday.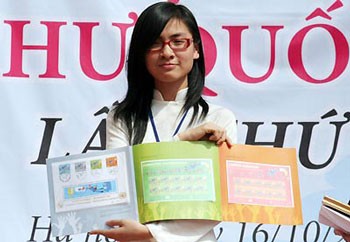 Student Ho Thi Que Chi
Next year's contest, themed "Writing a letter to someone to explain how decent working conditions can lead to a better life" is open to people aged 15 and blow.

Entries should be no longer than 1,000 words and should be sent to Tien Phong newspaper, 5 Hoa Ma Street, Ha Noi, by February 15, 2009.

Submissions in English or French must be accompanied by Vietnamese translations.

Ho Thi Que Chi, a 10th grader in the northern province of Bac Ninh, won the first prize in Viet Nam in this year's competition, themed "Write a letter to someone to tell them why the world needs tolerance."

Chi's entry was a letter to Osama Bin Laden. The letter spoke about the need for tolerance and exhorted people to avoid cruelty. The letter was also Viet Nam's entry at the union's 37th International Letter-Writing Competition.

Related article:
Letter to Bin Laden Wins UPI Letter Writing Competition