Several organizations in Vietnam supported by UNESCO will launch for the first time a 'Week for Lifelong Learning' program in October, to promote and encourage literacy in the country.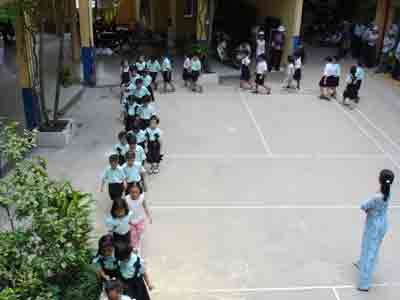 Young students queuing for class at a school in Ho Chi Minh City (Photo: VH)
The program is being co-organized by the Vietnamese Ministry of Education and Training, the Vietnam Study Encouragement Association, the Ministry of Culture, Sports and Tourism and UNESCO Vietnam.
The programs aims at encouraging people to adopt a lifetime practice of learning in order to improve society. Literacy is also a unique and powerful tool to eradicate poverty and a strong means to improving and bringing about change in communities.
Vietnam has to concentrate much more to bring in literacy to its people, especially those above 15 years of age, women and to ethnic minority groups living in the mountainous and disadvantaged regions.
On the occasion of World Literacy Day on September 8, the Vietnamese Ministry of Education and Training announced that only 4 percent of Vietnamese children are not attending primary schools as of now in the country, and the ministry plans to work with the United Nations on programs to encourage more attendance in schools.