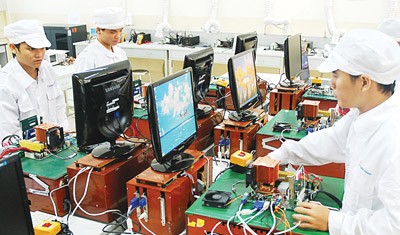 Students of HCMC-based University of Technical Education are practicing electric circuit (Photo: SGGP)
Over the past tens year, the education sector attracted many good students, wiping out the idea that only low-quality students desired to become teachers. However, in recent years that idea has returned, with a drop in high school graduates sitting entrance exams for pedagogy universities.
With 21,000 senior students vying for 2,500 places at Hanoi University of Pedagogy this year, statistically, the number of students taking this year's entrance exams fell by 2,600 applications compared to last year.
In addition, the school has lower qualifying scores with 22 marks for math, and chemistry and biology at 16.
The current worry is that many good quality students have not registered to enter these schools for teacher training.
In the 1980s, only students with average or low abilities applied for teacher training facilities.
The sector made a breakthrough in 1997 when the Government decided to exempt would-be teacher students from tuition fees. Moreover, an increase in teachers' salary promoted the sector's qualifying scores.
The golden era of education sector lasted for five or six years. However, some students recently told Sai Gon Giai Phong why they turned their back on teaching training.
Take Vu Quang Long, from the northern province of Nam Dinh, an excellent graduate of Hanoi University of Pedagogy in 2005 as an example. Graduating top of the year, he was kept as a lecturer at the school with a salary of just VND2 million (US$109) per month.
Teacher Pham Hong Cuong shocked the deputy Prime Minister and Education Minister, Nguyen Thien Nhan, over the online question-and-answer session "Education and Training of Vietnam in the new academic year" on August 31, when he told the deputy PM that his pre-school teacher wife earned VND360,000 a month.
In addition to low pay, new graduates are struggling to find work.