An affordable, international-standard vocational training program for students has been launched for the first time at four colleges in HCM City.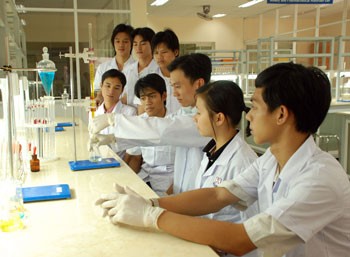 Students of the Pharmaceutical faculty of Nguyen Tat Thanh College in the school's laboratory
The program is part of a collaborative project between HCM City's education industry and the Singapore Polytechnic and Temasek Foundation. Students will enjoy affordable tuition fees, which will not be set higher than domestic programs, said the course organizers.
Three vocational schools and colleges in HCM City – Nguyen Huu Canh, Nam Sai Gon, and Thu Duc and Phu Lam – will run the program for the next three years.
Program organizers aim to expand the project into others schools throughout the city to develop international-standard human resources, said Huynh Cong Minh, director of HCM City's Department of Education and Training.
Apart from traditional careers in fields such as mechanics, electronics, information technology, and accounting, students can also choose new subjects including multi-medium communications and electro-mechanics.
City authorities will also fund the vocational schools to improve the quality of education and training.
Nearly 1.6 million students wrote the 2009 university entrance examinations, yet nearly 70 percent failed the tests.
Many students subsequently opt to enroll in vocational training schools and centers as an alternative. The new program could be especially helpful for such individuals.
HCM City is home to around 40 vocational training schools and centers. In 2009, the centers targeted enrollment of around 40,000 students.