The success story of an ethnic student who was appointed to work in a school in the central highlands province of Lam Dong  just after university graduation is considered an example for the youth.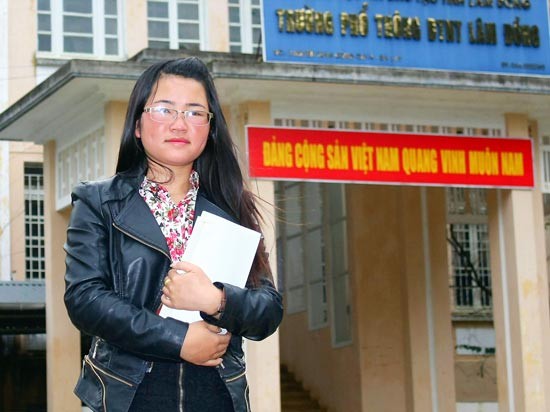 Ma Hieng is a good model for ethnic young students (Photo: SGGP)
People's Committee in Lam Dong Province last week approved to admit university graduate Ma Hieng without taking part in a tough civil service examination.
 
Ma Hieng is a member of Churu ethnic minority group who lives in rural Ta Nang commune of Duc Trong district, 30km north-east from Da Lat city.  She lost her father when she was born.
 
Because of her poor family's economic condition, her siblings could not continue their study except her. Ma Hieng said that many students in her fatherland had to drop school to earn living and got married at early age.
 
Ma Hieng had to leave her family for study when she was nine years old and has lived far from home for 13 years. The distance from her school to her house is very far so she goes home several times a year.
 
Remembering these old days, Ma Hieng said that when she was a primary student, her school was 5 kilometer far from the house so she and her classmates had to come to school at 5 AM through corn fields and mud-covered roads in rainy season. As her family is so poor that her mother could not afford sandals and schoolbag for her; as a result, she used rope to bind textbooks and books to school. When she was third grader, her mother asked her to drop school to tend buffalos, yet she refused because she liked learning so much.
 
She determined to study hard when she stayed in boarding school. In the entrance examination to Da Lat University in 2011 she earned 23 marks- the highest in the examination.
 
People's Committee decided to give her full scholarship for the studying in the university, she still worked as tutor to earn more and accumulate practical experience in her field of studying.
 
The new school year is coming and she will be a teacher in her old boarding school. Ma Hieng is very eager, saying that she would try her best to do the new work.
Party Committee Secretary  of Ta Nang Commune Hoang Van Tu said that the approval by the province government to recruit Ma Hieng would encourage ethnic minority students to study hard to follow the model of Ma Hieng hence it has helped changing ethnic minority residents' awareness on importance of learning.
 
The Churu people live most in Lam Dong and Ninh Thuan provinces. The group's population is approximately 19,000. They speak Churu, a Malayo-Polynesian language. They were said to be the most advanced among the highlanders because of their historical links to the Cham.