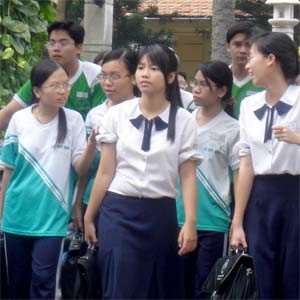 Students in high schools now have 3 Divisions to choose (Photo:VH)
Educational system in Viet Nam is divided into 2 phases, according to Nguyen Minh Hien, Minister of Education and Training, at the conference hosted by National Education Council on January 9.
The first one (from 2006 to 2015) will apply the existing major division. In the second phase, students will have options in some subjects basing on their ability and following international education system. 
Under the educational policy, two proposals have been made. In the first proposal, the high schools curriculum will be divided into 2 major divisions including Division of Natural science and Division of Social sciences and humanities. In the second one, it will be divided into 3 major divisions including the two said divisions and Division of foundation studies.
The second proposal was approved by National Education Council. Prime Minister Phan Van Khai affirmed at the conference that all high schools must follow foundation studies beside some specialist subjects.
Also, examinations and tests must be appropriate and close to foundation studies and vocational program, which offer advantages for students in recruitments and working.
Furthermore, curriculums will be designed for educational reform, which includes textbooks for foundation studies and eight specialist subjects (literature, foreign language, history, geography, mathematics, physics, chemistry, biology).