Goals set under the national education action plan should be adjusted as many are financially unfeasible and unlikely to be achieved, according to the board tasked with coordinating the plan.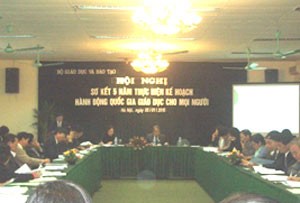 Participants attend a conference to review the five-year implementation of the national education action plan in Hanoi on January 1.
Board members made the suggestion at a conference to review the five-year implementation of the plan in Hanoi on January 1.
 
According to the scheme, all primary pupils would be provided with textbooks free of charge by 2015. However, the Ministry of Education and Training said the target is too ambitious. To give all students free textbooks, a further VND500 billion (US$26.3 million) would be needed annually, the ministry said.
 
Pham Ngoc Dinh, deputy director of the board and deputy head of the ministry's Primary Education Department, said the goal is a big challenge for the State budget, and it would only be possible only with increased funding.
 
In addition to the textbook issue, the ministry also admitted that many of the plan's other targets would be difficult to achieve by 2015, adding that it's impossible to build classrooms and libraries, and establish computer rooms for all primary schools in 2010-2011.
 
The board said not all primary pupils will receive free textbooks by 2015, but only those in rural areas and children of top welfare beneficiary families.
 
According to the board, the implementation of the pre-school education program remains a challenge, as it requires a comprehensive modification in content and methodology. In addition, a majority of rural and disadvantaged areas lack teachers and facilities to implement the program.
In some regions, many children do not attend school due to a lack of facilities. Only 27 percent of kindergarten-aged children in Red River provinces are enrolled in school, and 79 percent of nursery-age children in nursery schools. In the Mekong delta provinces, meanwhile, just 3 percent of children are enrolled in kindergarten and 45 percent in nursery schools.
Participants at the meeting proposed to increase State budget funding for the action plan and improve nationwide endorsement of nursery school education for all five-year-old children.
 
They also suggested financial assistance to improve Vietnamese instruction to ethnic students and basic education in disadvantaged areas.