Parents must be means tested to determine how much they should pay for their children to attend pre-school, the Ministry of Education and Training has told its city and provincial departments.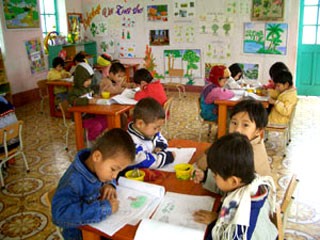 Children at a pre-school
Families that cannot afford to pay anything are exempt from any fee.
So that more children might go to school, the ministry says semi-private pre-schools may be turned into fully private or fully State schools.
However, in remote regions, where most of the populace is poor, all semi-private pre-schools will be converted into public schools.
Furthermore, the number and size of public pre-schools in any given area will depend on the education budget for that area.