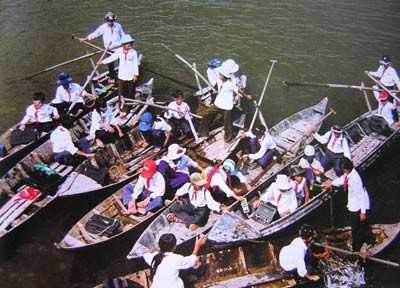 Students in Ca Mau go to school on ferries. Ca Mau Province pay ferry charges for poor students  to coax dropouts back to school
Around 80 per cent of students who dropped out of school in the Mekong delta have returned this academic year, thanks to the efforts of provincial governments to address the causes of their quitting in the first place.
In Bac Lieu, teachers held special classes during the three-month summer vacation for weak students.
Teaching staff in Hau Giang Province investigated the reasons for students quitting school to find solutions to help them.
The Hau Giang People's Committee gave each needy student VND200,000 from the fund for the poor to encourage them to return to school.
Ca Mau Province paid ferry charges for poor students enabling over 500 dropouts to come back to school.
Fresh dropout rates have also fallen: Ben Tre has managed to reduce the percentage of primary-school students quitting by 0.08 percent, junior-high students by 1.32 percent, and high-school students by 1.65 percent.
In Ca Mau and Soc Trang the dropout rates have fallen by 0.01 to 0.04 percent at all levels.
Related articles:
Poor schooling in Mekong Delta worries Government