At a conference organized by the Ministry of Education and Training and the Southwestern Region Steering Committee on Saturday, topics of discussion included lack of facilities, teaching material as well as teaching staff in the Mekong Delta.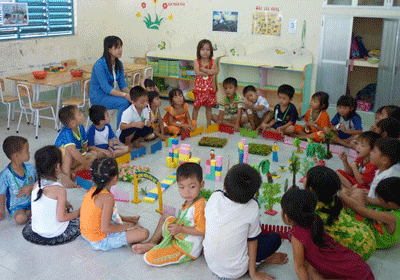 Teachers in the Mekong delta pre-schools have to personally provide for toys for students (Photo: SGGP)
The conference titled "Pre-school education in the Mekong Delta-Reality and Solutions", was held in the Mekong delta province of Hau Giang, and was organized to find solutions to tackle problems of pre-school education in the region.
Pre-schools in the region are in dire need of essential teaching facilities, teaching material and teaching staff. For instance, Hau Giang Province has 7 communes that don't even have a pre-school for children.
Hau Giang has 675 classrooms, yet 115 are very dilapidated and made of bamboo; 130 classrooms need repairs and children now go to nearby primary schools till this is complete.
Moreover, all the schools were built on land donated by residents, so they have no space for playgrounds and toilets. Similar conditions prevail in other Mekong delta provinces of Can Tho, Vinh Long, An Giang, Soc Trang, Bac Lieu and Ca Mau.
There is no pre-school in 215 communes of the Mekong delta region, which also needs at least 2,000 more teachers.
The program of compulsory education for children from the age of five was also discussed at the conference. The region needs VND14,660 billion(US$ 697,000) to carry out the program.
Deputy education minister Nguyen Thi Nghia said at the conference that the problem should be addressed by raising awareness in parents' of the importance of compulsory education for five-year-olds.
Besides, pre-school education is the seed of economic growth in the region. The whole political system must pay heed to educational facilities in communes and the government must make this a priority, Nghia added.
A detailed roadmap for developing pre-school education by 2015 and an adequate investment fund should be in place without further delay, said participants at the conference. Investments can come from lottery companies, social contributions and the state budget.