Sai Gon Giai Phong is giving away the Vo Truong Toan Awards to honor the best teachers in Mekong Delta provinces and cities to mark Teacher's Day, November 20.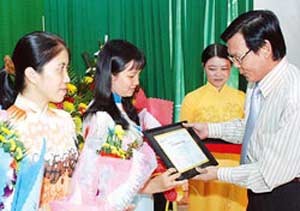 SGGP's Deputy Editor-in-Chief Nguyen Tan Phong gives away the Vo Truong Toan Awards to teachers of Can Tho City (Photo: SGGP)
At a function yesterday, 15 teachers from Kien Giang and An Giang Provinces and Can Tho city received the awards. 
Addressing the function, SGGP's Deputy Editor-in-Chief, Mr. Nguyen Tan Phong said: "The winners are people who constantly try their best to overcome obstacles in lives and devote their whole lives to education." 
Mr. Nguyen Quang Hue, deputy director of Prudential Vietnam, the main partner in the awards program, said: "Our society won't forget the dedication of these teachers to students and to the nation's education." 
Mrs. Tran Thanh Binh, deputy chairwoman of the Kien Giang Province People's Committee, hailed the awards saying they "encourage teachers to improve their teaching skills and dedicate their life to teaching." 
Today SGGP will hold the ceremony in Soc Trang province. It is for the first time that the Vo Truong Toan Awards are being given to teachers in all 12 provinces and cities in the delta.
The full list of winners:

An Giang Province: Trinh Thi Mai Trinh (Huong Duong Pre-School), Pham Thi Le Hang (B Phu My Primary School), Doan Thi Thanh (A Chi Lang Primary School), Ly Thi Yen Tuyet (Phu My Middle School) and Tang Thi Ngoc Thu (My Hoi Dong High School).

Kien Giang Province: Pham Thi Oanh (Binh An Pre-School), Nguyen Thi Hoang Oanh (Kim Dong Primary School), Nguyen Thi Mao (Giong Rieng Town No.1 Primary School), Le Thi Diem (Thanh Dong Middle School) and Nguyen Thi Thuy Phuong (Nguyen Trung Truc High School)

Can Tho City: Tran Thi Ngoc Trinh (Tay Do Pre-School), Le Thi Diep Ngan (Primary School No.2), Ta Thi Truc Thuy (Thot Not Town Middle School), Nguyen Thi Kim Chau (Truong Lac Middle School) and Khuu Quang Minh (Tra Noc High School)
Related article:

SGGP announces educational contests for Hcmc, Delta