A teacher in a continuing school has used the concept of mind maps pioneered by Tony Buzan to get his students enthusiastic – and proactive - about literature.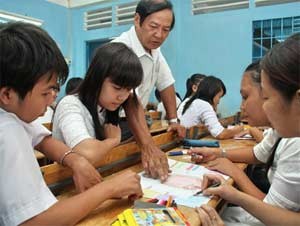 Teacher Huy (standing)explaines the steps to make the mind maps to his students (Photo: Tuoi Tre Newspaper)
"Last year, I found various books in related to a new concept, mind maps, by Tony Buzan. The more books I bought to read, the more interested I became. It got me thinking that this concept can probably be applied to my subject", said Hoang Duc Huy, who currently teaches Literature in District 4's Continuing School in HCMC. 
Extra class hours or recess is the period Huy chose to apply the new method to his students. He also recommended that his students try it after class as well. So, the students were encouraged to surf the internet at home to find materials, including pictures and other content, to draw their own mind maps relating to the just-completed lesson. 
Usually considered a boring subject by most students, Huy is proud that every student of his has applied the new method of learning. "But not all lessons will have mind maps, only poems, narratives and descriptive lessons," he said. 
The feedback from the students has been positive. One student said: "Previously I did not like literature at all. But, after a few extra-classes with teacher Huy about mind maps, I tried to do it on my own. Day by day, I feel better with this subject."   
Huy usually marks the mind maps drawn by his students and returns them to the class for discussion. He believes that these maps allow students to develop their creative ideas in their own ways.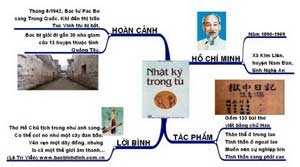 A student at District 4 Continuing Schol makes a mind map for the Prison Diary by Uncle Ho (Photo: Tuoi Tre Newspaper)
He has tried out his new method with success in another school, Nguyen Khuyen Private Secondary School, where he is a part-time teacher. A ninth grader, Cao Nguyen Thu Cuc, said: "I feel quite comfortable during the class hours led by teacher Huy. No stress. The more enjoyable discussions we can have with the lessons, the less boring and sleepy we feel. This new method also helps us to acquire the knowledge better and faster."  
Pham Chi Dung, who heads the literature faculty of the Continuing Education Office under the city's Department of Education and Training, highly evaluates the creative initiative by Huy. "Mind maps have been used much in the business industry; this is the first time this concept is used in the school, and that too for a subject like literature."  
Dung also observes that Huy has contributed a lot of creative methods for teaching and learning literature, including updating literature and also lesson plans on his website
www.hoangduchuy.com
so that students can connect to his website from any place and study online. Dung has promised that the department will create good conditions for the new method to be applied more widely, not just to continuing education, but also for regular schooling.
A Mind Map is a powerful graphic technique which provides a universal key to unlock the potential of the brain. It includes a center picture or a main idea connecting second- and third-level branches which specify the main idea. It harnesses the full range of cortical skills - word, image, number, logic, rhythm, color and spatial awareness - in a single, powerful manner. The Mind Map can be applied to every aspect of life where improved learning and clearer thinking will enhance human performance. (Source: Buzan World Website: http://www.buzanworld.com/)