The Ministry of Education and Training laid to rest all public concerns on the cancellation of the National High School Examinations, saying that these cannot be cancelled.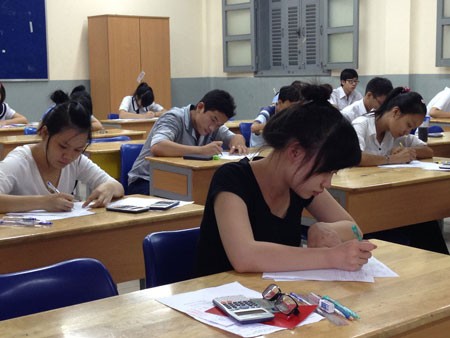 Students sit for university entrance examination into Pedagogy University this year (Photo: SGGP)
Nguyen Vinh Hien, Deputy Education Minister, said at a press brief on August 1 that if the examinations are cancelled, both teaching and learning quality will go down, but added that there is an ongoing debate on the holding of National High School Examination.
Hien said at July 31 meeting, Vietnamese Vice President Nguyen Thi Doan just proposed the education sector to consider the necessity of the exam. However, many countries still hold the examination to check teaching and learning quality.
In Vietnam, because the National High School Examinations and the University Entrance Examinations are organized close to each other, there is immense pressure on both students and parents.
The Ministry is now thinking of making adjustments to the scheduling of the two important exams by 2015 as well as revising all curriculums.