Vietnam's Ministry of Education and Training announced Friday its decision to ban three colleges and universities from taking in new students in 2012, and another decision to have four international training facilities stop unlicensed training programs.
The three institutions of higher education are Van Hien University, Ho Chi Minh City College of Information Technology, and Dong Do University.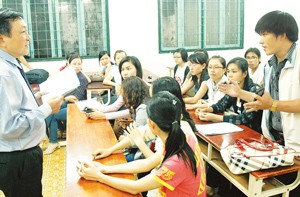 Undated file photo shows a Van Hien University tourism student (R) and a faculty manager (L) discussing the fact that the university has issued certificates with a wrong major (Photo: Thanh Hung)
According to the ministry, if the three institutions do not improve its conditions in training quality by 2013, the ministry will consider suspending them from operations.
In addition, the ministry has decided to suspend enrollments to 12 faculties at four institutions of higher education namely Chu Van An University, Luong The Vinh University, Nguyen Trai University and Danang Architecture University.
Meanwhile, the four international training facilities that have to stop training programs not permitted are Raffles Vietnam, ILA Vietnam, ERC Vietnam, and the Institute of Accounting and Business Management (IAMB). They have to refund tuitions paid by affected learners.
All the four are headquartered in Ho Chi Minh City.
ILA Vietnam is a foreign-invested company. The Vietnamese education ministry has found the company's wrongdoings such as it had signed with Australia's Martin College to offer training for the college's degree programmes.
The ministry fined it VND65 million (about US$3,100). ILA Vietnam was also required to stop its advertisements on recruitment and training.

Like ILA Vietnam, Raffles Vietnam is a foreign company. Not permitted, but it has organized training programs of levels 1 and 2 of the Raffles College of Higher Education in Singapore, and level-three training for the BA program of Raffles College of Design & Commerce in Australia.
Raffles Vietnam was fined VND75 million (almost $3,700) and required to stop its advertisements on recruitment and training.

ERC Vietnam was fined VND80 million for its wrongdoings such as it offered BA and MA training programs. It has an agreement University of Greenwich in Britain in BA training, and another deal with the Australian Institute of Business Administration Pty Ltd in MA training. ERC Vietnam was also required to stop its advertisements on recruitment and training.
IABM (Institute of Accounting and Business Management) was not permitted to train from the kindergarten level to PhD level. However, it has an agreement with NSSDC Education Services in Malaysia to provide BA, MA and PhD training for its partners namely Adam International University and International American University – both in the US.
The Vietnamese education ministry cannot fine IABM due to an expiry in penalty. However, it was required to stop its partnerships. The ministry is considering no recognition of certificates issued by International American University to those who have studied at IABM.