HA NOI (VNS) — The Ministry of Education and Training has decided to combine the annual national high school exam and the university entrance exam from next year. At present, they are held separately.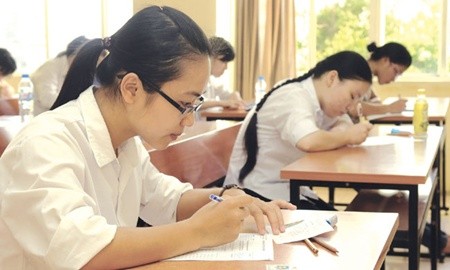 Students sit for the university entrance exam at the Diplomatic Academy of Viet Nam. — VNA/VNS Photo Thanh Giang
The results of the exam will determine if students graduate from high school and qualify for admission to tertiary education at a university, college or vocational training institution.
Qualified universities and colleges will be asked to take part in the organisation of the exam, which will be held annually in mid-June.
Students will be required to sit for tests in three compulsory subjects, maths, literature and a foreign language, and one optional subject - physics, chemistry, biology, history or geography.
Students will also be able to register for tests in more optional subjects to have more opportunity to successfully apply for admission to universities and colleges.
Universities and colleges will be told to publicise their plans on how to use the exam results for enrollment before January 1 each year.
Deputy Minister of Education and Training Nguyen Vinh Hien said that the decision to hold only one national exam was made following the Party's Resolution to radically overhaul education and training.
The move is expected to help reduce costs for society and students as they will be able to attend exams held in their own localities instead of going to other provinces and cities.
Hien said the exam would provide more opportunities for students to get admission to universities and colleges.
To ensure fairness, universities and colleges would be allowed to preside over the exam's marking process, he said.