The Ministry of Education and Training has ruled children should learn English from the third grade onwards but schools, especially in rural areas, are not equipped for this since they face a shortage of textbooks, teaching staff, and facilities.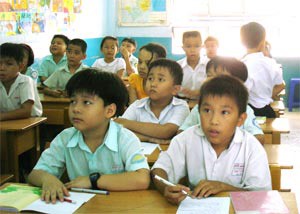 Third grade of Cau Kieu school in district Phu Nhuan. The ministry has ruled children should learn English from the third grade onwards (Photo: Phuong Nhu)
The ministry's strategy to develop education for 2008-2020 envisages having 70 percent of students learning English by 2015 and 100 percent by 2018.
However, the project seemed to be not feasible as  many primary schools in some districts face difficulties not including educational institutes in rural and remote areas where seriously lack essential facilities.
But even Ho Chi Minh City, and which has held intensive English programs for 10 years now, has complained that some schools do not have enough teachers, lack standard facilities, and have overcrowded classes.
A teacher said having too many children in a class will make it difficult to teach communication and the students can only be taught to read and write.
One hundred teachers who took part in a recent training programme said they are concerned about what textbooks will be used under the new curriculum.
Educational agencies are considering choosing textbooks like Let's go, Let's learn and Go go.
Nguyen Ngoc Hung, the ministry's English expert, said teachers should not be unduly worried since the new syllabus is similar to the old one and provincial education departments can decide on what books to use.
Though the ministry said different textbooks are allowed to be used at the moment to prevent any publisher from establishing a monopoly, it seems to be an unsatisfactory solution.