The Ministry of Education and Training will issue updates of textbooks in the form of leaflets rather than as a book, said an official from the Education Publishing House on Monday .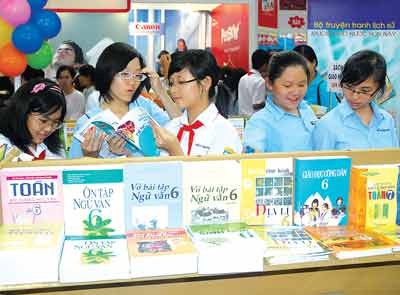 Students look for new textbooks for the new school year at Nguyen Hue Bookstore in district 1, HCM City.
Mr. Vu Ba Hoa, the publisher's director general, said these leaflets should be called documents rather than books. The documents collect ideas from readers, teachers, and educational experts. They focus on correct spelling, international transcription, capital letters, and update new knowledge.
He said that the facts in the material are accurate. However, he noted that some changes may be necessary due to evolution of science and society.

However, he has no idea when the leaflets will be released.
Meanwhile, the ministry announced the release of three books to publicize these disclaimers on subjects at the beginning of the new school year. Teachers, students and parents have waited for these corrections, but the books are still not available.