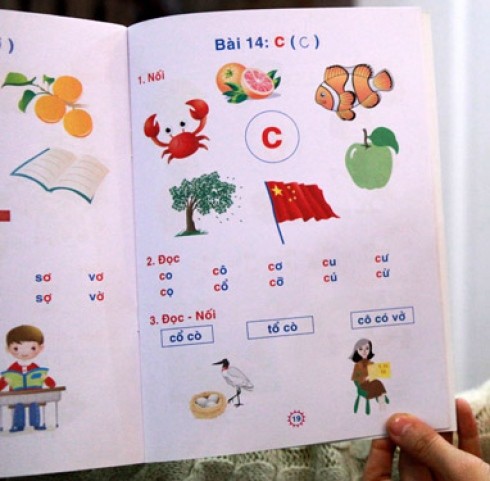 The page showing a Chinese flag in the book 'Kids learn the alphabet'
After a public hue and cry about a book intended for five-year-old students featuring the Chinese national flag instead of the Vietnamese flag, the Ministry of Education and Training asked the Pedagogy University in Hanoi to withdrawn the book from circulation.
In the book 'Kids learn the alphabet' by Nguyen Thi Thu Ha and published by the Pedagogy University, lesson 14 features an image of the Chinese national flag. Accordingly, the Ministry ordered the publishing house to reclaim all copies of the book and destroy all those in use.
Meanwhile, in another book for children from ages 2-4, called '10 minutes before bedtime,' by My Thuat Publishing House and Dinh Ti Commercial Service Company, the Chinese flag once again appears on page 8 in the lesson 'Love for your country'.