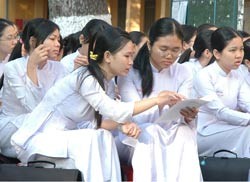 Students of the Nguyen Thi Minh Khai High School.
The final round of the "Looking for Top Scoring Student" English exam will be held by the Sai Gon Giai Phong Newspaper in cooperation with Viet Nam National University, Ho Chi Minh City and the city Department of Education and Training on April 23, 2006.
It is sponsored by the Vietnam Dairy Products Company (VINAMILK). About 1,000 twelfth graders will take part in the exam.
They are from many high schools in Ho Chi Minh City, including those from schools for gifted students of Le Hong Phong High School, High School for The Gifted, Tran Dai Nghia. Especially the exam has the attendance of students from two suburban high schools, Trung Phu of Cu Chi District and Ly Thuong Kiet of Hoc Mon District.
The exam questions will be given by the Center for Educational Testing and Quality Assessment under Viet Nam National University Ho Chi Minh City. The exam's time limit and number of questions are similar with those of university entrance.
Candidates will be given 2B pencils, an eraser, a CD providing guidelines on enrollment information in 2006, and tests and answer keys of university entrance exams from 2002 to 2005.
The first prize is worth VND2 million, the second VND1 million and the third VND500,000, all of which will be accompanied by gifts from Vinamilk.
The exam has been held to encourage local provinces to train high-school students on multiple choice tests for their high-school graduation and university entrance exams. The tests and answer keys of the exam will be posted in the Sai Gon Giai Phong Newspaper on April 24, 2006.