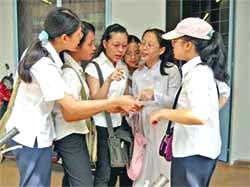 Students are discussing after the examination.
Hundreds of students attended the competition "Looking for top scoring student" despite the rule that only students from high schools in Ho Chi Minh City can enter the event.
Student Pham Thanh Duy and his mother arrived in the examination venue so early. His mother, a farmer in Cu Chi district, put aside her agricultural work to go with him although her son could take a bus to the venue.
Another woman, Doan Thi Be Hai, came from Hoc Mon district said that rice cultivation in this current stage is in need of high technology from foreign countries. "I am so happy when my children learn foreign languages," she said
"Looking for top scoring student" is just a mock examination that means no bonus points will be added to the official university or college entrance exam results for the students.
Student Tang Thi Loan from Nguyen Du high school was so delighted with the test. "The mock competition is so useful. It helps us earn more practical experiences and study skills, fueling self-confidence in preparation for the coming official competition. I hope that I would have good marks", she said.

Dr. Nguyen Hoi Nghia, Director of Centre for Educational Testing and Academic Quality Evaluation of Vietnam National University, Ho Chi Minh City affirmed that the exam's time and questions are similar to those of university entrance.

The organizing board had established an opposition board to ensure the exact content of the test. All the students felt at ease and were in formal uniforms although it was not an official test.
Suffice it to say the exam was successfully conducted like a real and official test.
After the exam, many students from many gifted high schools like Le Hong Phong, Tran Dai Nghia gathered and discussed the answers of the exam with each other.
All students took the exam not for prizes but all for the hope that their English would be improved and blossomed into a better result in a near future. The better they speak English, the more respect they will pay to their native tongue. 
The competition, financed by Viet Nam Dairy Products Company (Vinamilk), was jointly organized by Sai Gon Giai Phong Newspaper, Viet Nam National University – Ho Chi Minh City (HCMC) and HCMC Department of Education and Training.