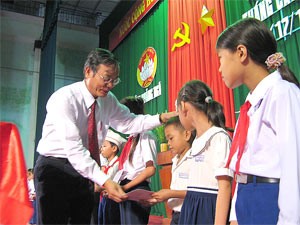 A provincial official with some of the scholarship recipients yesterday
Sai Gon Giai Phong newspaper on Wednesday distributed 250 cash scholarships to children of poor families in Quang Ngai. Sorrow lingers in the central coast province months after Typhoon Chanchu tore through the region and left tragedy in its wake.
Elementary school kids received VND300,000 each and high school children VND400,000 each, and there were also 100 bicycles for the youngsters who had suffered the most from the violent storm.
Nguyen Minh Thao, the youngest of six children in her family, burst into tears when she received her VND400,000. "I would love to learn more. I want to become a doctor", she exclaimed. Thao has been a top student for the past eight years.
Lots of schoolchildren in her small village have similar aspirations and hope to be engineers, healthcare workers tending to the poor, or teachers of the disabled. They might be poor themselves in material terms but they have no desire to be lacking in dignity.
Vo Van Duc, whose father died in the typhoon, gazed at his new bicycle.
His mother spoke in tears: "Our village is very sandy and it's not easy to get around. My little boy has always dreamed of having a bicycle to go to school. Every morning for the past five years he has had to rise early so that he can walk to school on time. When he saw his school mates riding bicycles to class, he wished he had one."
From now on, Duc can ride his new bicycle to school, and the seven-kilometer journey won't seem nearly as long in the years ahead.
Local teacher Nguyen Thi Huong said that most of the school kids in the village had dropped out after the storm. Now, thanks to the generosity of strangers within and without the nation, they are resuming their studies.
Nguyen Minh Thao, who wore a look of satisfaction knowing that she and her friends could return to class without any worries, promised to study hard in the years ahead.