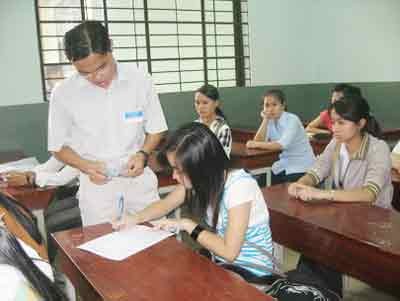 Contestants sit entry examinations into the University of Social Sciences and Humanities. (Photo: Tuoi tre)
The number of students entering Vietnamese universities and colleges this year will increase by 10 percent from last year, according to a plan by the Ministry of Education and Training (MOET).
The Ministry also plans for 17 percent more graduates in 2010.
MOET said it planned to admit about 570, 000 students into educational institutes with three groups: information technology, economics – finance – banking, agriculture – forestries- fisheries; natural and social sciences and humanities; and pedagogy, medicine-pharmacy, arts-sports having the most applicants.
At a meeting on January 9, Ministry officials will discuss possible changes to improve the coming tertiary entry examinations.
Earlier, MOET had ordered all universities to announce new subjects and student quotas or they would not be permitted to hold entrance examinations.