Under the permission of Prime Minister Nguyen Tan Dung, upgrades and additions are being made to higher academic institutions in the Da Nang, Bac Lieu, and Nghe An provinces.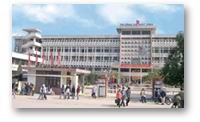 Vinh University
The Da Nang University of Architecture, which is in the process of being built, is scheduled to hold classes starting next year. The new university is will enroll 500 students for six faculties.
The new Bac Lieu University is being created by a merger and upgrading of the Bac Lieu Pedagogy College and the Bac Lieu Continuing Education Center.
The provincial leaders of  Nghe An has also proposed the Ministry of Education and Training to upgrade the University of Vinh into the Vinh University of Interdisciplinary Studies including its subsidiary universities of pedagogy, technology, agriculture, forestry and fisheries; and colleges into universities of Pedagogy, Culture and Arts, Economy and Health. Additionally, three private universities are also being set up in the Nghe An Province.