Reforms in vocational education have failed to focus on teaching methods or on vocation-oriented programs, most participants at a seminar held at the Ho Chi Minh City Social Research Institute agreed. This has led to an inefficient use of human resources, they said.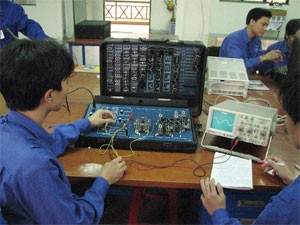 Trainees at a vocational center
"Vietnamese workers face the challenge of competition with their foreign colleagues", Ms. Le Thi Ngoc Dung, MA, of the HCMC Social Research Institute told the seminar, which was entitled "Educating and Directing Students towards Social and Career Values."
Since only 30 percent of local workers can meet the recruitment standards for high-quality workers set by large-scale international and local companies, the import of foreign skilled workers into the country has been viewed as indispensable.
Every year, the city's labor market needs some 30,000 skilled workers. Yet, the supply of human resources from vocational schools in the city does not come close to meeting this demand.
In the last decade, the number of university and college students has increased tenfold while the number of students studying in vocational schools has merely tripled, according to a report by the Ministry of Education and Training.
Why have vocational schools so far failed to attract students? Many participants blamed this failure on the education sector's ineffectiveness in giving vocational guidance to students.
They pointed out that only 0.91 percent of junior high school students and 1.77 percent of senior high school students have been given access to vocational education.  Consequently, most high school graduates face difficult choices in terms of career.
Since a student's choice of a career is important not only to him or her, but also to his or her family and to the society, many developed countries provide vocational education in post secondary school, said Mr. Nguyen Quang Duong of the HCMC Education Research Institute.
After nine years of comprehensive education, all students choose either an academic education or a vocational school, added Mr. Duong.
Due to lack of awareness of the importance of vocational education, Vietnamese students overwhelmingly prefer academic education.
Every year around 3,300 high school students in An Giang fail the graduation exam, said Ms. Nguyen Kim Nuong, a former director of the Social Sciences and Humanities Center of An Giang University.
If these students decided to enroll in vocational schools, after three or four years, they could go to work and get a monthly pay around VND 800,000 each, Nuong added.
After one year of work, these workers would get salary equivalent to VND 31 billion, as well as social values they would get and contribute through their work.
"In case 1,000 out of 3,300 failures mentioned above went to work abroad via labor export programs and earned a monthly salary at some VND 4 million each, the total amount of salary they got after one year of work would reach VND 48 billion. What a waste!" stressed Nuong.
According to participants, to avoid such waste, appropriate vocational education programs should be introduced in high schools to give right career consultation to students and help them make an individual choice concerning their future career that not only relies on personal tastes, but also on ability, qualifications and characteristics.
To encourage students to take up vocational education, the government should on the other hand build more technical colleges where vocational school students can receive further training to become practical engineers, most participants agreed.
Those who have not yet graduated from high school can attend vocational centers to become skilled or semi-skilled workers.
The participants at the seminar recommended that the Ministry of Labor, Invalids and Social Welfare enhance the vocational training system's standards to meet regional standards and to raise the ratio of students enrolling in vocational schools to 40 percent by the end of 2010.
For this to be done, career guidance must be included in high school curricula as a compulsory subject to help students chose appropriate post-secondary schools.