Vietnam's Youth Television Network, VTV6, the country's first national channel dedicated specifically to youth programmes, and the British Council have just launched a competition called "I'm talented" for teenage groups.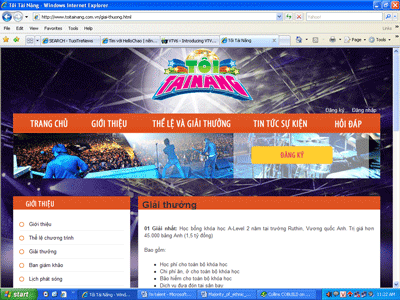 The homepage of the competition website
VTV6, part of a broader Vietnam Television Network, launched the competition aimed at helping high school students nationwide to be able to interact better with their surroundings and create more awareness of their own potential and abilities in the fields of general study, scientific progress and new technologies in the modern era.
Through four rounds of the competition, young people will be able to boost their confidence, discover their hidden talents and abilities and also have an opportunity to win many prizes.
This competition is a chance for high school students to access international modern education through study programmes in renowned universities in the UK, if they win in the competition.
Interested candidates can register to participate in the competition on website: www.toitainang.com.vn