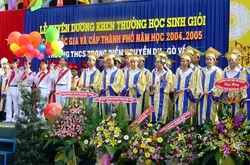 National contest winners of Le Quy Don School in Ho Chi Minh City are commended in an award ceremony
Students who have achieved national and intentional prizes in academic contests, arts competitions, sports, and international Olympic contests, now have the special privilege in matriculation.
The prize-winning students can enter the universities or tertiary colleges without any entrance exams.
They will have three choices of institutions with different priority level.
The privileged students could not account for more than 30 percent of the regular enrollment number of the university or a faculty of the institution.
Students who select some famous educational institutions as first option must note that only a very few top-prize winners could enter the schools without entrance exams.
The Institute for International Relations and many faculties of the Medical Universities in Ha Noi and Ho Chi Minh City are deemed difficult for many top-winners to select them as their first choice.
The deadline for applications is June 20 and the result will be released before June 30, 2006.