Of over 700,000 students applying for the higher education entrance exams, nearly 500,000, accounting for 70 percent, arrived July 3 at exam places to do the pre-test procedure before officially entering the exams the next day, says the Ministry of Education and Training.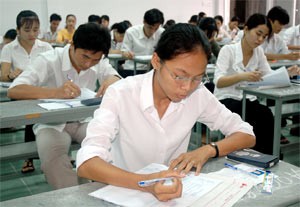 Candidates entering exam in University of Industry
Many universities in the southern provinces of An Giang, Can Tho, Dong Thap saw up to 77 percent of candidates turning up to take the tests on July 3.
The figures from the universities of the Ministry of Public security were over 90 percent, besides, the universities of the Ministry of Defense affirmed around 86 percent of test takers. Meanwhile, most of the higher education institutions in the northern region faced a sharp drop to under 60 percent.
Many leading schools in Ha Noi like the University of Technology, University of National Economics and University of Trade reported the low figures of candidates of around 69, 57 and 51 percent respectively.
The Hue University has already prepared a separate room for 5 blind students. These specially treated students will do the tests in braille and then record the exam answers after getting the questions spoken through headphones.
The Hue City People's Committee has asked all the authorities to cooperate with the local university in assisting the test takers during the exam periods.
Yearly, there are three sessions of the matriculation test for students in different major divisions. Students will start July 4 the university admissions tests with the two subjects, mathematics and physics. The first session's remaining test - chemistry - will be done tomorrow.