More than 200,000 students from kindergartens, primary, secondary, high schools, colleges and universities attended the opening ceremony in their individual schools, for the new academic year, held throughout Da Nang City on September 5.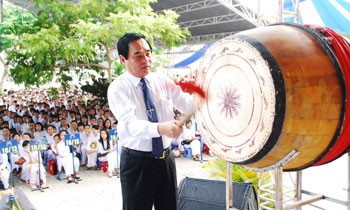 Deputy chairman of the People's Commitee of Da Nang City, Van Huu Chien beats the drum to open a new school year in Phan Chau Trinh high school. (Photo: Danang.gov.vn)
The education and training sector in the central coastal city has invested around VND116 billion (US$5.5 million) to build more infrastructure and provide better equipment to schools before the start of the new academic year from 2011-2012.
Hundreds of students from the Ruc, Ma Lieng, A Rem and Ma Coong ethnic minority groups in the central province of Quang Binh also went back to school on the same day.
Primary school students will now have to learn English from the third grade itself, starting from this school year.
The Department of Education and Training in the highland province of Dak Lak will apply new methods of teaching in four primary schools of the province, namely, Nguyen Tat Thanh, Le Thi Hong Gam, Ly Thuong Kiet and Vo Thi Sau. The new methods have been adapted from teaching methods of advanced countries, and are targeted to bear results from now until 2015, especially for disadvantaged and ethnic minority pupils.
The central highland province of Kon Tum has about 135,000 students with 4,965 classrooms. Schools will have to run two shifts each day because of shortage of classroom facilities. Other factors will also have to be considered, like students who have to commute dangerous terrain like forests and streams to come to school, especially during the flood season.