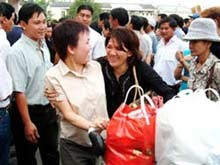 Overseas Vietnameses return to their homeland

A short-term course started in Ha Noi on May 25 to teach the Vietnamese Language to Overseas Vietnamese students living in San Francisco, who have returned to their home country for summer

.
The two-week course, the second of its kind ever was held in Viet Nam by the Ministry of Foreign Affair's Committee for Overseas Vietnamese and partly funded by the Community Support Fund.
Upon completing the course, the students are expected to have improved their pronunciation and vocabulary skills through lessons on linguistics, literature, Vietnamese culture and history.
Addressing at the opening ceremony, Deputy Chairman of the Committee for Overseas Vietnamese Tran Quang Hoan expressed appreciation for the Vietnamese teachers and students from the City College of San Francisco and San Francisco State University spending their summer vacation learning more about the national culture and history.
"The Vietnamese Government had always cared for the younger generation living abroad and assisted them to learn their mother tongue" Mr Tran Quang Hoan, said.
Prof. Jonathan Chuong Chung from the Asia-US Study Faculty of the City College of San Francisco spoke highly of the assistance in and organization of the Vietnamese course.
He said the course was an important link between in the Overseas Vietnamese community in San Francisco and their homeland. It was also a practical implementation by the Committee of the Government's Resolution 36 that that targeted Overseas Vietnamese.
This was the first time that second-generation Overseas Vietnamese living in US learned Vietnamese in their home country, the professor said.
Most of them were majoring in Asia studies.
(Source: VNN)