The Ministry of Education and Training has issued new methods for marking in primary schools for the new academic year 2013-2014.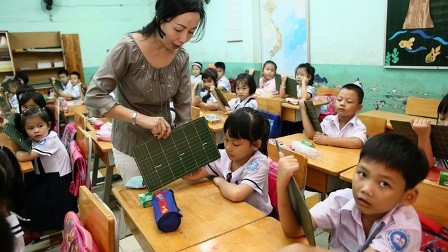 A teacher instructs a first grader how to hold a chalkboard at Nguyen Chi Thanh Primary School in District 10
The Ministry has instructed all departments of education and training across the country to henceforth clearly state that teachers do not provide marks to first graders during class but only in tests at year-end.
Teachers can only offer comments and suggestions to help students correct their mistakes and improve.
Moreover, teachers should not make any comparison between students or criticize students in any situation.
The Ministry's new instructions have attracted parents' attention and also caused concern among the public.
Deputy Education Minister Nguyen Vinh Hien on August 11 told Saigon Giai Phong that after consideration, the ministry will review and revise the recent instructions where necessary.
Nevertheless, the Ministry still holds the viewpoint that teachers should not give marks to first graders but only offer comments.
Accordingly, for the new academic year, the ministry just encourages primary school teachers not to give marks but offer encouragement. Some educators said that if teachers give marks to young students who cannot read and write, it will unintentionally cause pressure on parents, who will then have no choice but force their children to practice reading and writing in advance.