The Ministry of Education and Training has laid down new regulations that will place a ban on teachers holding extra tuition classes for students after school hours at educational facilities or in their private homes.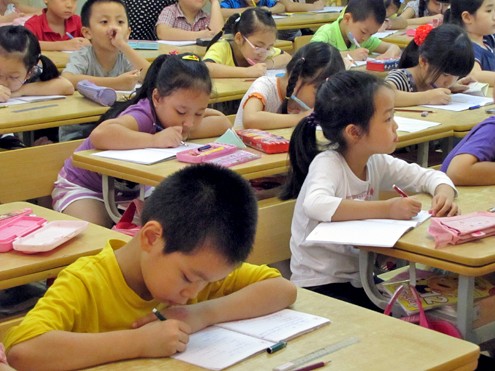 Extra classes for primary students will be banned from July 1
According to the new regulation that will take effect from July 1, any extra tuition classes in primary schools and other educational facilities will be banned.
However they can be held for weaker students or for those whose families ask for extra classes to study art, sports, reading and writing. These classes will not be allowed to exceed more than 90 minutes each and be limited to only two classes per week.
Moreover, teachers running extra classes will not be allowed to cut content from national textbooks or teach any content beforehand.
Universities, colleges and vocational schools will not be permitted to organise any extra afternoon classes for high school students.
Teachers from state schools will not be allowed to organise extra evening classes. Any teachers wishing to organise extra tuition classes in educational centres must write an application letter, clearly stating that they will strictly follow regulations set by the ministry. School principals will be responsible for ensuring that only qualified teachers conduct extra classes.
Any individual or organisation wanting to open extra classes outside of school will have to obtain a licence, according to new regulations. They must list the names of students, the timetable and tuition fee that is being accepted.
Parents who want to send their children to evening classes have to write an application letter to express their wishes and students must write a similar letter. These letters will be sent to the school headmaster who will then assign teachers for the special classes.
Last but not least, the ministry will lay down the tuition fee and management of the tuition fee for all schools in the country.
The new regulation is aimed at ending the negative phenomenon among teachers who intentionally give students lower marks than they deserve in order to convince parents that they should pay the teacher for private tutoring outside of regular school hours at the teacher's house.