University tuition fees have been increased by VND60,000 per month under a recent decision by the Prime Minister. However, a number of universities said that such an increase is still not enough for them to cover actual expenses, according to a survey by Sai Gon Giai Phong.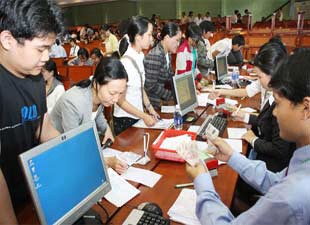 HCM City University of Economics students pay their tuition fees for the 2008-2009 academic year (Photo: Tuoi Tre)
At its recent session, after considering the Government's plan on changes to the financial mechanism for public schools, the National Assembly (NA) agreed that a new tuition fee system would be implemented from the 2010-2011.
As for the coming school year, the NA decided that fees should be increased at a low rate, since the economy has yet to get out of a recession, On that basis, the Government has decided to raise fees from the VND180,000 to VND240,000 per month as the ceiling rate.
Following the decision, many universities have made their budgets for new tuition fees but some of them commented that such an increase does not much help.
Head of the Banking Academy of Vietnam, Dr. To Ngoc Hung, said: "The rise is not very considerable compared to essential expenses our school has to pay, including scholarships that will account for 15 percent of the new tuition fee."
Every year, the university has to spend a large amount of money on making up for tuition reductions and exemptions for a number of students, Dr. Hung explained.
At the Foreign Trade University, tuition fees of VND200,000 and VND240,000 will be applied for college and university levels respectively.
"At these rates, we will continue facing financial difficulties as the university is one of the educational entities that are self-financed," said Dr. Dao Thi Thu Giang, head of the school's Planning and Finance Department.
The principal of the Hanoi University of Technology, Prof. Nguyen Trong Giang, said that the school will fix tuition fees at varied rates, depending on faculties. The ceiling rate will be applied for "hot" faculties, such as telecom electronics and automation, while a lower fee will be leveled for faculties such as textiles and garment or metallurgy.
The same concept is adopted at Hanoi Community University, where tuition fees for faculties in the field of technology will be higher than that for economic faculties, according to its head, Dr. Hoang Ngoc Tri.
The VND60,000 increase will also not much help in improving teaching quality, said Prof. Giang.
"An ordinary laboratory costs about VND1 billion (US$54,000). As for our newly-built chemical laboratory, it costs as much as VND5 billion. Therefore, the new tuition fee rate remains low compared with such actual expenses," he said.
Of the same opinion, Hanoi University's deputy principal Do Duy Truyen, said that "such an increase will only cover part of the expenses of teachers' salaries."
Meanwhile, Dr. Le Huu Lap, deputy head of the Post & Telecommunications Institute of Technology, said: "Frankly speaking, we are not really interested in a rise in tuition fee at public universities, since the tuition fees at such universities are far lower than that at international or private universities. Tuition fees at public universities do not help much in solving financial problems."