New Zealand's Auckland University of Technology tied up with the Ho Chi Minh City University of Natural Sciences for training in information technology.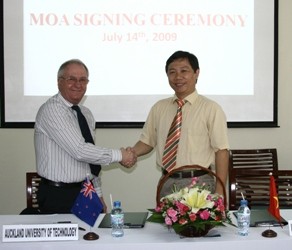 An Auckland University Technology representative (L) and Duong Anh Duc, HCMC University of Natural Sciences deputy rector, sign an agreement for IT training.
Under an agreement they signed on July 14, the new IT course will last three and a half years, with students studying for the first two years in HCMC and the remaining period in New Zealand.
The two universities will directly enroll students who achieve floor strandard score in this year's national university entrance exams.
AUT has two campuses located in Auckland.