On April, 20, the ceremony to present Nguyen Van Huong Scholarship is held at HCM city. On this occation, SGGP newspaper Interviews Mr. Robert Kruit, Chief Executive of Zuellig Pharma VN & Cambodia - one of the leading sponsor of the Fund on the development of Nguyen Van Huong Scholarship Fund and contribution to the education of the Vietnamese younger generations of healthcare workers.

The VN economy in general and the pharmaceutical industry in particular are increasingly integrated into the world economy and into ASEAN's region in 2015. According to you what the pharmaceutical industry of VN will be in this opportunity and challenge as well?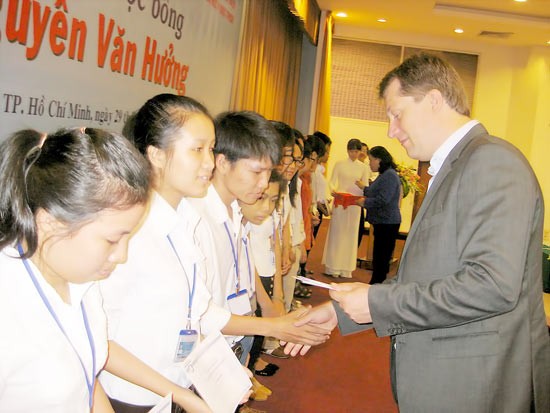 Robert Kruit, Chief Executive of Zuellig Pharma VN & Cambodia presents scholarship to medical students (Photo: SGGP)
There is still room for further integration of the Vietnamese pharmaceutical industry into the regional or world economy. Vietnamese exports of medicines are for example limited. Further integration can be achieved through liberalization of the sector. Foreign-invested enterprises are still restricted in their activities in Vietnam, which limits foreign investments. At the same time the domestic industry is fragmented, only produces a limited portfolio of products. I see a great opportunity for both foreign and local industry when regulations are further liberalized. Through FDI and tech transfer, i.e. through cooperation of foreign and domestic manufacturers, the local industry can develop and increase its capabilities. This will allow Vietnam to supply a greater portion of its domestic needs, and it will ultimately allow Vietnam to become an exporter.

You once said that technology, marketing and manpower are the key factors to success in the pharmaceutical industry, so what has ZPV done and further developed at your company regarding to these key factors?

Zuellig Pharma Vietnam invests heavily in technology. In 2014 for example we have equipped all our warehouses with the latest in Radio Frequency (RF) technology. This technology reduces errors in warehousing and product picking activities, and therefore enhances tracking and tracing capabilities and patient safety.
Concerning manpower – we believe people are our most important resources and we invest in them. In 2014 we have organized numerous trainings for our employees, both class-room based and on-site, focusing on subjects such as Quality Management, Customer Service and Leadership, as we want to equip our people with the required skills to grow. We also prefer internal promotions over the recruitment of external candidates. If we promote from within, we show our team members we are committed to their growth.

ZPV has accompanied effectively for years with Nguyen Van Huong Scholarship Fund which is initiated by SGGP newspaper, could you please share your feelings with the students who receive this scholarship? What are your suggestions for the development of Nguyen Van Huong Scholarship Fund?
Vietnam is developing rapidly, non-communicable diseases are on the rise, GDP per capita is increasing. The healthcare needs of the Vietnamese citizens will increase, in both quantity and quality. It is an honor to contribute to the education of the next generation of healthcare professionals who will make this possible.

At this moment, the fund provides a scholarship to students in need. I would like to see if there are opportunities to evaluate with such students how the scholarship has helped them 5 or 10 years after graduation. They are at that point in time in a good position to assess what else they may have needed. Secondly, I would be interested in exploring if we can also offer employment opportunities to the students through a network of contributing companies.